On September 30, 2021, Irina Markovna Argutina, a translator of the SUSU Academic Writing Office and a leading engineer of the Computer Department, held an online seminar on the Structure and Stylistics of a Scientific Paper and Principles of its Preparing for Translation.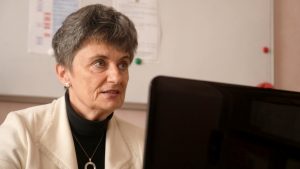 At the seminar, the classical structure of the IMRaD research paper was presented. A step-by-step description was given for goals and features at each stage of writing the paper, from the title and annotation to the results and their discussion. The main problems and ways to solve them were discussed. I.M. Argutina presented a well-defined list of requirements for each section of the paper, noted the most typical difficulties and errors, illustrated with examples and anti-examples from her own experience as a translator of scientific papers and gave practical recommendations for each stage. The stylistics of the paper was discussed particularly in the context of its readiness for adequate translation. Requirements for the text structure, vocabulary, design of illustrative material, the terminology used, symbols, etc. were clearly and definitely presented in detail and accompanied by practical examples and recommendations for their implementation.
The seminar was held in Russian. It had a wide audience of the SUSU professors and researchers and aroused great interest, questions, and gratitude from the audience.