At the end of October 2021, employees of the Institute of Linguistics and International Communications (ILIC) took part in two international online conferences dedicated to the development of publication activity and academic writing.
On October 29-30, 2021, the conference "Supporting Faculty in Writing for Publication: Best Practices" was held, organized by the Academic Writing Center at the HSE University, Moscow.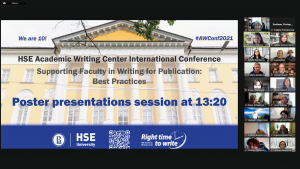 The conference was devoted to topical issues of teaching scientific writing and supporting authors in publishing, various models of organizing such support within the university, the exchange of experience between academic writing teachers and the heads of Russian and foreign writing centers.
The speakers were experts in academic writing: Karen Ottewell, Director of Academic Development and International Student Education at the University of Cambridge; Carolyn Westbrook, British Council Test Development Expert; James Corcoran, Associate Professor of ESL and Applied Linguistics at the University of York; Ron Martinez, Director Scientific Publications Consulting; and Ashley Squires, Director of the Center for Writing and Communication at the Russian School of Economics and others.
Head of the Academic Writing Office (AWO), Evgenia Khabirova, was invited to moderate the "Approaches to Assisting Academics" section, and also made a presentation on developing a distance learning course in academic writing for SUSU employees "Research Writing: Experience of online course design" and presented the SUSU AWO at the poster presentation section. Consulting Editor of AWO, Amanda Wegner, and Associate Professor of the Department of Linguistics and Translation and AWO translator, Olga Tolstykh, also attended the conference.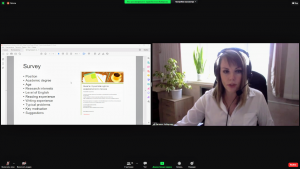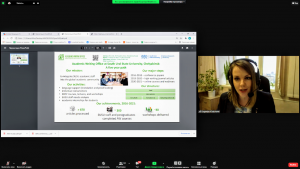 Head of the Department of Foreign Languages, ​Ksenia Volchenkova, made a presentation on "An online course in academic writing for academic staff". Head of the Department of Linguistics and Translation, Olga Babina, and Professor of the Department of Linguistics and Translation and Director of the REC "Linguistic and Innovative Technologies", Svetlana Sheremetyeva, presented a report "The language technology environment for teaching academic writing in English".
On October 31, 2021, the National Writing Centers Consortium organized the 3rd International Conference "Research Writing: Teaching Approaches and Assessment Practices". The conference brought together experts in the field of scientific writing, journal editors, translators, teachers of English for research publishing purposes, as well as tutors and staff of university writing centers. Representatives of the academic writing professional community exchanged best practices in teaching academic discourse.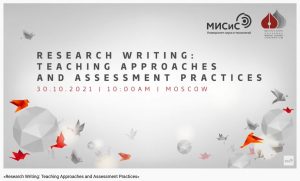 Participation in the conferences allowed ILIC employees to establish new professional contacts and discuss the possibilities of creating joint projects with like-minded people to develop academic literacy in Russian universities.