The Summer School was organized by the Association of Translation Teachers and Protranslation Agency and held from 5 to 11 July 2021 in Krasnaya Polyana, Sochi. The event was attended by students, translators, and translation teachers from Moscow, the Moscow region, St. Petersburg, Chelyabinsk, and Barnaul.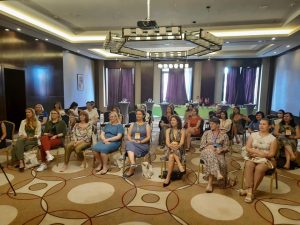 The School consisted of two blocks—a translation game called Translation Unites Professionals and optional courses (Russian Language Stylistics for Translators).
The translation game consisted of stations covering different translation activities, such as working on a project, using translation memory sources, machine translation and post-editing, compiling glossaries, layout, document legalization, translation standards, and much more. During the game, the participants experienced many aspects of the translation business,
got acquainted with different customers, and had to solve many challenging problems. Each station was run by the heads of translation agencies, such as Littera, Legalizuem.ru, Pravo i Slovo, Star SPb, and managers from Protranslation.
The Russian Language Stylistics for Translators course was taught by journalist, teacher of the Russian language, and editor Maria Parkhimchik. She touched upon different aspects of high-quality texts: logic, expressiveness, and efficiency. The participants used examples from real texts to analyze common mistakes made by translators.
The last day of the School included master classes held by renowned specialists in linguistics and translation: an online master class Risk Management in Translation by Honored Professor of Translation and Intercultural Studies Anthony Pym; online master class Pre-Translation Text Analysis by German translator, professor, Doctor of Sciences (Philology) Christian Nord; an in-person master class Training of Simultaneous Interpreters by the director of St. Petersburg Higher School of Translation Irina Alekseeva; and an in-person master class by one the leading translators of films and TV programs in Russia, General Director of Rufilms Alexey Kozulyaev.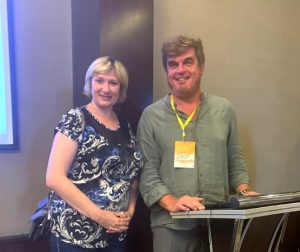 "During the Summer School, I met and exchanged knowledge with translators and translation teachers from other cities, translated a text for a charitable project, and acquired skills in working with the MemSource translation memory storage device and different glossaries. Now I will use this experience in my professional activities," notes Elena Pecherina. "I really liked the organization of the event—everything was without a hitch. The decoration was also excellent—there were banners, signboards, and posters placed around the hotel, and we could buy books on linguistics and translation theory and souvenirs from the Association."
At the end of the Summer School, Elena Pecherina was awarded certificates and commemorative prizes.